Projects across the nation have won a share of more than £5million in funding to save and enhance lives for veterans.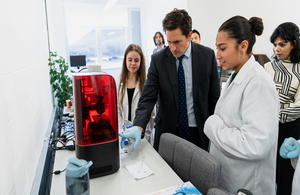 The 22 innovative healthcare schemes will bring advancements in technologies, interventions and treatments to better meet veterans' physical and mental health needs.
Financial support has been achieved from the Veterans' Health Innovation Fund through a competition run by the Office for Veterans' Affairs with the Defence and Security Accelerator (DASA).
Proposals submitted addressed the challenge areas of digital, data and technology, surgical technology, bioengineering and rehabilitation with blast injuries and public health, pain management, hearing loss and visual impairment.
Initiatives to help identify and/or provide solutions to disparities in female veterans' health and healthcare were also submitted.
The winners awarded funding to fast-track their innovative solutions are:
Blesma: The Limbless Veterans Charity
This project aims to explore the lived experience of injured veterans who are wheelchair and electronic powered vehicle users, and to provide a comparison of the effectiveness of selected categories of assistive technologies.
Imperial College London (x4)
Four separate, yet complementary projects looking at further research to improve prosthetics for amputee veterans.
Imperial College London and Anglia Ruskin University
This project aims to evaluate the Veterans Trauma Network (an NHS England treatment pathway for veterans with physical health needs), with a view to supporting its future growth and development.
Umio
This project aims to develop veteran chronic pain peer-support and self-learning/management platform, to help veterans to live better and well with long-term pain.
NuTissu ltd
This project aims to develop E-Plasters that can be wirelessly, intuitively activated with a patient's smart phone or a laptop, to enable the self-management of rapid and complete wound healing.
University of Birmingham
This project aims to evaluate blood biomarkers against visual and clinical assessments from veterans who have suffered traumatic brain injury to help develop an algorithm to predict prognosis in veterans.
Forward Assist
This project aims to look at and develop a clear understanding of the multiple and complex issues faced by military veterans with lived experience of sexual assault, and identify gaps in service provision.
Cardiff University
This project aims to develop online military-focused cognitive behavioural therapy to support veterans with PTSD.
Radii Devices Ltd
This project aims to improve residual limb management and rehabilitation through user-reported data, via a digital application
King's College London and Combat Stress
This project aims to develop a digital application so it can better support female veterans with problem drinking.
St John and Red Cross Defence Medical Welfare Service, NHS Lanarkshire and the University of the West of Scotland
This project aims to bring together welfare support and technology to benefit isolated veterans in Lanarkshire in collaboration with Technology Enabled Care.
Anglia Ruskin University, Leeds Beckett University, The King's Centre for Military Health Research, the Veterans' Trauma Network and Defence Medical Welfare Services
This project aims to co-design recommendations for improving service delivery and care pathways for female veterans' physical health.
University of Exeter and IonaMind
This project aims to develop and evaluate an artificial intelligence-supported intervention to treat depression and anxiety in female veterans.
Bravo Victor working with Esme's Umbrella and Moorfields Eye Hospital
This project aims to improve our understanding of visual hallucinations in military veterans through a programme of research on prevalence, phenomenology, practice patterns, and a novel therapeutic intervention.
University of Leicester
This project aims to develop an online test of executive dysfunctions as a marker of PTSD in UK service veterans, to enable fast, economical and accurate diagnosis of PTSD and improve the sensitivity of diagnosis and evaluation of clinical treatments.
Swansea University
This project aims to evaluate the efficacy and cost-effectiveness of a smartphone-based app to reduce harmful gambling and PTSD symptoms among veterans.
Imperial College London and Northumbria University
This project aims to create a comprehensive evidence base for the physical health needs of the veteran community.
Northumbria University
This project aims to assess the impacts of, and risks associated with, military service on brain health in female veteran
Imperial College London to the ADVANCE study, the Defence Medical Rehabilitation Centre, Welcome Trust and Defence Medical Services
This project aims to investigate the characteristics of combat injury, and key medical and surgical interventions to evaluate whether these have a beneficial effect on the long-term outcomes in UK veterans.
Minister for Veterans' Affairs Johnny Mercer (pictured at NuTissu) said: 'I'm delighted that we're providing funding to these projects. Utilising the latest developments in research and clinical care, these initiatives will spur innovation and new techniques to treat veterans - both with physical and mental health conditions - who have been injured in the line of duty.'