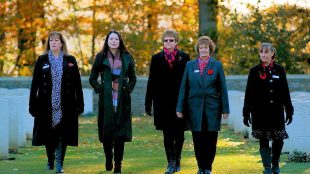 A small MOD team is to be thrust into the national spotlight when its fascinating work features in a national primetime TV programme.
The dedicated group, known popularly as the MOD War Detectives, will be the subject of a special edition of ITV1's Long Lost Family, featuring Davina McCall and Nicky Campbell.
Every year, remains of British soldiers are found across mainland Europe, often by farmers, builders and archaeologists. Each discovery prompts inquiries by the War Detectives, known more formally as the Joint Casualty and Compassionate Centre's Commemorations Team, part of the MOD's Defence Business Services and based at Imjin Barracks in Gloucester.
The all-female team uses military and historical research to try to identify remains from World War 1 and World War 2 and seeks to trace descendants for DNA tests in the hope of confirming an identity. Funerals with full military honours are arranged, and even those who sadly cannot be identified are honoured.
The hitherto unheralded work of the JCCC, which works in collaboration with the Commonwealth War Graves Commission, is extraordinarily detailed and often very emotional. Members know the highs of identifying the personnel and giving them the formal send-off their bravery so richly deserves, often with proud descendants present. They know how it is to inform family members of the noble sacrifice of forebears they will probably never have known and possibly never knew existed. But they also have to manage the setbacks, such as when leads they hoped would clinch an identification prove to be negative after months and sometimes years of painstaking work.
The rollercoaster ride of emotions is brought home vividly in the show, which goes out on ITV1 at 9pm on Monday 21 October, representing the culmination of a 14-month project between the JCCC and the DBS Communications Team.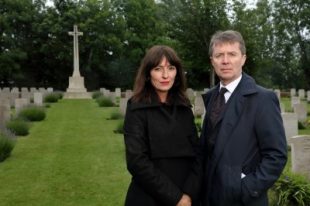 Viewers follow McCall and Campbell as they see the War Detectives join the families of Private Frank Mead and Private Henry Wallington for a moving and unforgettable tribute as they are buried, alongside an unknown British soldier, at a British military cemetery near where they fell in France.
McCall said: "What I found so moving is how passionate these women are about their work. I don't believe they see it as work. It is their mission. And all they start with is a case number, but they are like terriers…with forensic historical knowledge. They just won't give up."
For updates on the War Detectives' cases, images of their services and more about their work, follow the new MOD War Detectives Facebook and Twitter feeds @wardetectives.