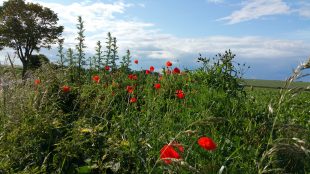 A former serviceman has provided a heartwarming example of commitment to Remembrance with a remarkable show of initiative that proved a big hit on social media.
John Mason, who is thought to be 85, braved the cold of late October to sell poppies to drivers stuck in flood traffic close to his home near Worcester.Mr Mason, an RAF veteran who has supported the appeal for more than 20 years, did not hesitate when a neighbour alerted him to the queues of motorists delayed by floodwater after the River Teme burst its banks. He quickly donned official attire, grabbed his poppies and collection box and went from vehicle to vehicle in Powick, collecting donations for the annual Royal British Legion appeal.
Motorists responded generously to the RAF veteran, who even had a slight 'run-in' with the police during his venture on behalf of the Powick and Callow End branch of the RBL when an officer gently advised him he should not be standing out in a road. However, a motorist handed Mr Mason a high-vis jacket and the policeman helped him to put it on before Mr Mason continued taking donations for about another hour.
Perhaps unsurprisingly, Mr Mason, who says he 'cannot walk very well these days', began to tire in the cold morning air and returned home for a breather – but not before vowing to return for another stint that afternoon. He spoke of his plans for an afternoon session in a lunchtime interview with a local radio station, which picked up the delightful story of Mr Mason's imaginative campaign after a truck driver posted photographs and video of him walking from vehicle to vehicle. The footage was then quickly shared more than 1,000 times.
Touchingly, an image from the day shows a motorist's outstretched arm handing a donation to Mr Mason, who is standing tall by a queue of vehicles.
Mr Mason, president of his RBL branch and Worcester chairman of the Royal Air Forces Association, modestly brushed off the acclaim for his dedicated efforts, instead praising the drivers who gave. 'It's so heartening the way that people respond to the appeal,' he said. 'They are marvellous.'